The Poodle and the Bear
One of the great things about collecting antique dog postcards is finding sets, particularly when you have the dog set-up in an unusual manner.
It is a real thrill, coming across other images from the same weird or bizarre photo shoot.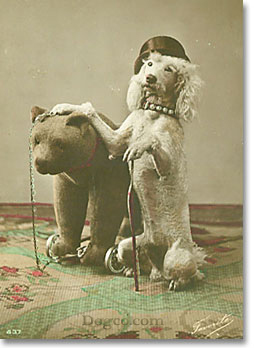 I have discovered the images in this article over the past two years. The poor poodle wears a more pained expression in each image. He really is a long-suffering chap.
These are hand-tinted real photo postcards and you can expect to pay upwards of $45 on eBay for one of these in good condition.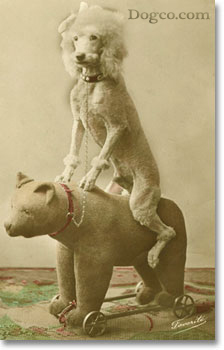 The subject matter appeals to collectors of:
● Poodles
● Real photo postcards of dogs
● Trick dogs
● Dogs in studios
● Any collector who has an image from this set
And that's before we get started on the bear; pull along toys; antique toys etc …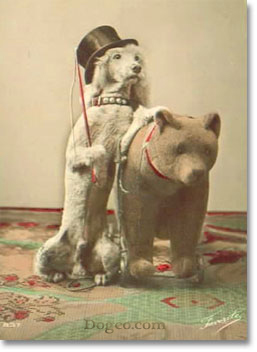 In the case of an artist illustrated postcard (as opposed to a real photo postcard) publishers often commissioned sets by the same artist which would be numbered or themed. These, too, are highly sought and completed sets in good condition fetch a premium price.
Unfortunately, with our poodles here, we have no way of knowing the size of the set so we'd love it if you would let us know if you have come across other images from this group.

Many gorgeous vintage and antique Poodle photographs and postcards similar to those mentioned in this article come up for sale here.
No related posts.
Posted by
Edman
on Sep 9 2010. Filed under
Poodle
,
Postcards & Paper
,
Vintage Dogs
. You can follow any responses to this entry through the
RSS 2.0
. You can leave a response or trackback to this entry